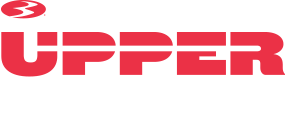 Develop bigger arms, shredded shoulders, rock hard abs and a chiseled chest with the Bowflex® UpperCut™!

What You Get
Base
Package
$99.95
Performance
Package
$129.95
Bowflex® UpperCut™
Bowflex® Body Weight Loss Plan
Dirty Dozen Workout Poster
Mobile Web App Workouts
UpperCut Manual
Speed Jump Rope
Bowflex® Push Up Handles
Bowflex® UpperCut™ Workout DVD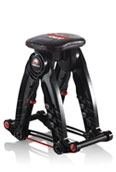 Bowflex® UpperCut™
The UpperCut™ includes three adjustable resistance levels and over 30 unique exercises with unlimited variations. You'll work your body in ways you can't do alone, with perfect form, every rep, every time for unprecedented results.
Dirty Dozen Workout Poster
Mount it. Frame it. Live it. The Dirty Dozen Workout Poster details the 12 essential UpperCut™ moves you'll need to master for the ultimate Bowflex® Body.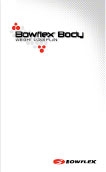 Bowflex® Body Weight Loss Plan
This plan is simple to follow, easy to maintain and designed to provide you with long-term weight loss success. Use the Daily Journal to track your food and water intake, completed exercise and record achievements.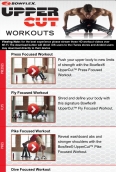 Mobile Web App Workouts
Our free web app for iPhone and Android is loaded with 5 workouts to get you tore up from the floor up. The Ultimate Five will introduce you to previously impossible exercises that will punish you mercilessly, but the payback is the Bowflex® body you deserve.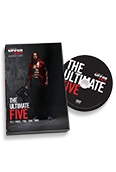 Bowflex® UpperCut™ Workout DVD
Harness the power of the Bowflex® UpperCut™ with five signature workouts to completely shred and define your body. Custom designed workouts focus on PRESSES, PIKES, FLYS & DIVES — the toughest exercises on the planet.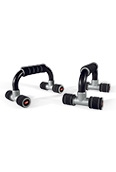 Bowflex® Push Up Handles
The Bowflex®Push Up Handles provide support for the most intense Bowflex® UpperCut™ exercises. Use with your Bowflex® UpperCut™ and master moves you never thought possible.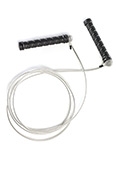 Speed Jump Rope
Don't skip the basics. This sturdy, balanced speed rope adjusts in length to fit your height and exercise routine. Handles feature removable weights so you can adjust for level of difficulty. Min. length is 9 ft.
HARNESS THE POWER
OF OVER 30 EXERCISES
WITH UNLIMITED VARIATIONS
PRESSES, PIKES, FLYS & DIVES - INTRODUCING THE TOUGHEST EXERCISES ON THE PLANET!

BUILD A CHEST THAT DESERVES RESPECT
You'll dig deep with UpperCut presses to build powerful arms and an explosive chest. Can't do a one handed push up? Now you can. Plus, train harder and smarter with tricep push ups, flying push ups, the menacing "bird dog" push up and more.
GET WASHBOARD ABS AND SHREDDED SHOULDERS
These killler pikes may leave you begging for mercy, but they'll reveal those six pack abs and develop broad, powerful shoulders.
THIS MOVE SHOULDN'T EVEN BE POSSIBLE
Seriously. You can't do a move like this with any other piece of equipment. Nothing will fire up your core, back, abs and legs like the Bowflex® UpperCut™. Knock out these shredding fly variations to define, sculpt and tear it up.
FIRE YOUR CORE AND LIGHT UP YOUR LATS
Your abs will scream and your lats will cry for mommy. These deceptively simple-looking moves will punish you mercilessly, but the payback is the Bowflex Body you deserve.
THE SCIENCE BEHIND UPPERCUT™
The Bowflex® UpperCut's™ A.R.C. technology was proven in a southern California university study to activate up to 30% more muscles, enable up to 4X as many reps and deliver incredible control and stability. You'll work your body in ways you can't do alone, with perfect form, every rep, every time.

Just Awesome!
Seriously, this is such an awesome product for some of the best exercises I love to do. I am fit, and I can do push-ups, but this helps me do more reps, do tougher variations and do them with better form. I love it. I use it during every home workout I do now!
By Surf Dude, Santa Monica, CA
Didn't Know What to Expect...
I got the product after some smack-talking friends boasted about their crossfit workouts. I play sports and do cardio, but don't spend a ton of time lifting at the gym, etc. Bottom line: I wanted a non-meathead's workout.
After a couple of days, I can tell you that the UpperCut definitely works...and not just for pushups or chest flys. To me, it feels like a mix of TRX/suspension, hard yoga(?) moves and something you'd see on a P90X video. The biggest surprise was how much core work you get from almost every move. The pikes and dives are especially nasty! Warning for meatheads: a lot of these moves require balance, coordination and flexibility. You have been warned!
By Not a Meathead, Portland, OR
Pushing the Limits
I use this after working out on "Insanity", I get my high aerobics with insanity then with the upper cuts I peak my work out ... which is just awesome! I enjoy the blast I get from combining and with the Bowflex I am gaining even more strength and power.
By espeed, San Diego, CA
The Real Deal
As the headline says, it's the real deal. I'm able to do moves I couldn't do without it and I'm hitting muscles I rarely use (unless doing a modification) or don't use at all when doing a regular crunch or push-up. It's all about muscle integration! If you blow through exercises you're missing out on the benefits and the intensity. Once you go through them enough you may not need them anymore and you can freestyle or incorporate moves into your other workout routines.
If you're looking for a new challenge, want to train yourself to do one handed push-ups, develop more core strength etc... this is pretty much a no-brainer.
By RX4FITNESS, Vancouver, WA
+ Read more reviews